Candidate's Message from Clerk of Civil District Court Chelsey Richard Napoleon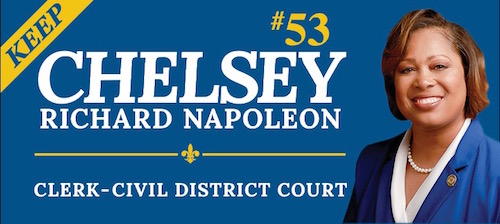 A Message from Clerk of Civil District Court Chelsey Richard Napoleon:
My parents taught me the importance of strong work ethic, academic achievement and service to the community. I now employ those lessons in working every day with our staff and citizens of this great city to ensure that they have access to justice at the Clerk of Civil District Court's Office.
I graduated from Ben Franklin High School and UNO, earning my Bachelor's and Master's Degrees in Political Science and Loyola University College where I received my Law Degree.
I have served you in the Clerk's Office for over 16 years, serving as Chief Deputy and now as your Clerk of Civil District Court.
I led efforts to modernize operations in the clerk's office; ushering in technological advancements, fostering increased public access and working to ensure that the office runs in an efficient manner.
The Clerk's office handles all of your most important documents. To have a full understanding of this office, its operation and its important role for the public, it takes management experience and it takes a lawyer. I AM a lawyer. If you come to Clerk's office with a question, that question comes to me, and I can answer it.
Since becoming Clerk, I have implemented "Solution Sessions" with supervisors and team leads, and "Think Tank" meetings with the entire staff to solicit team input on continuous improvements to the office. Under my leadership, we have also increased technology support, including hands on research support for seniors and other citizens researching property records. We are listening to our community members who have expressed need and are allocating resources to help in whatever way we can.
I have dedicated my entire career to serving this great city and with your vote on November 6th, I can continue my service to you as your Clerk of Civil District Court.

Chelsey Richard Napoleon
Clerk Civil District Court
[This advertiser's message is paid political advertising by The Committee to Elect Chelsey Richard Napoleon. GentillyMessenger.com does not endorse candidates for election.]
Comments
comments